July 25, 2018 - July 29, 2018




9:00 am - 6:00 pm

This camp is a 4 night / 5 day total wrestling experience. The week will consist of a unique blend of conditioning, technique, drilling, intense live wrestling, and fun team building activities. I have designed this camp to teach wrestlers how to train/live like a champion. Wrestlers will leave this camp with the necessary tools and knowledge it takes to excel in this sport.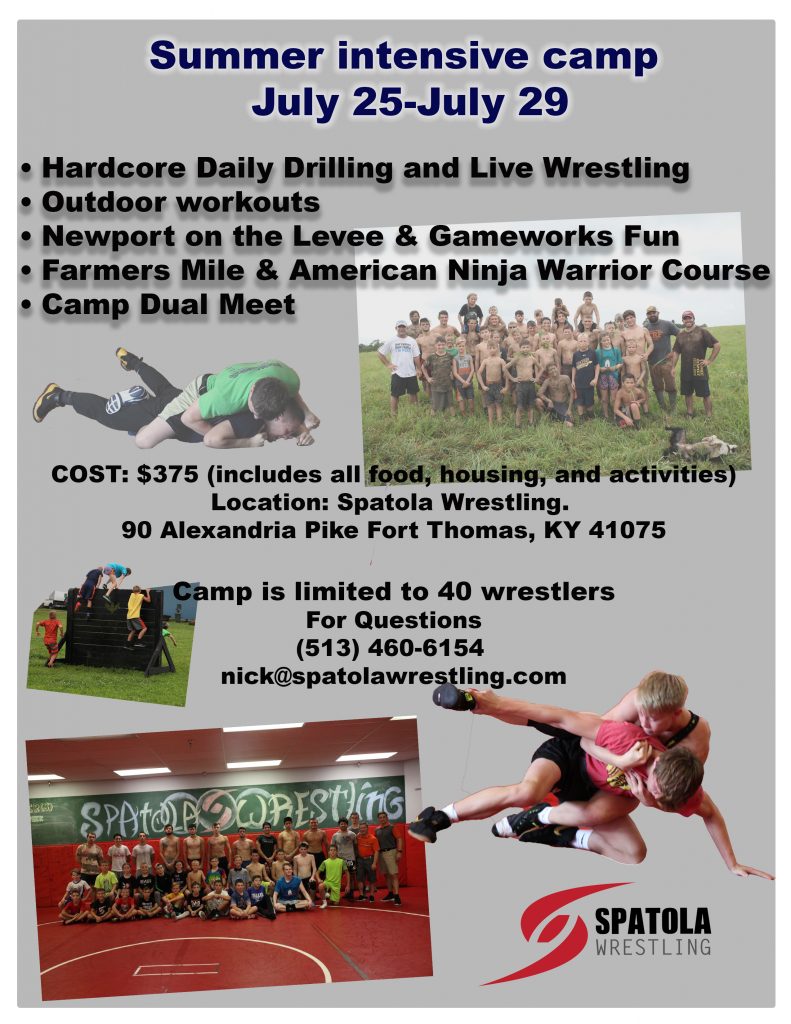 WHERE: Spatola Wrestling Facility (90 Alexandria Pike. Fort Thomas, KY 41075)
All campers will sleep at the facility
WHEN: JULY 25- JULY 29–Wed. (check in 6-7pm) –Monday (check out 5-6pm)
DAILY SCHEDULE: 7:30am———Wake up
8:00am———Breakfast
9-11am———Practice (conditioning, technique, drilling)
12:00pm——-Lunch
1:30-3:30pm–Practice (skills & drills, technique, drilling)
5:30pm———Dinner
7-8:30pm——Practice (warm up, live wrestling)
9:30pm———Movie
11:30pm——-Lights out
Special Team Activity Saturday Night!!
COST: $375 (includes all food, housing, and activities)
Checks Payable: Spatola Wrestling. 90 Alexandria Pike Fort Thomas, KY 41075
Camp is limited to 40 wrestlers
For Questions
(513) 460-6154
nick@spatolawrestling.com